About Jump for Joy
Jump for Joy is an appeal of the UK Charity ZANE - Zimbabwe A National Emergency to change the lives of a generation of babies born with Clubfoot and to eradicate it as a permanent disability across Zimbabwe.
ZANE - Zimbabwe A National Emergency is a not for profit charity dedicated to transforming the lives of needy people in Zimbabwe. Please visit the ZANE website at www.zane.uk.com.
In early 2011 ZANE established a clubfoot project in Zimbabwe and sent out a team of specialists from the UK to train Zimbabwe doctors, nurses and health workers in the Ponsetti method.
ZANE - along with partners - has continued to fund the Club Foot correction programme, and consequently the lives of some 400 children have been transformed in 2011-2012 with five centres of remedial treatment established in Zimbabwe. We hope that another 400 children will be helped in the next year.
We raise awareness of the availability of treatment and a cure, reaching out to remote and tribal areas. We work hard to show that this is a curable disability, establishing trust and demonstrating that these children are not cursed or a burden.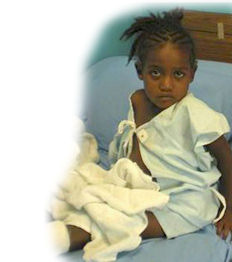 It costs £250 to treat an infant:
£20 covers the cost of plaster;
£50 covers the cost of the braces and splints for one baby;
£150 will cover the cost of the surgeon and the anaesthetist.
£30 pays for sundry other expenses
It costs £1000 to perform corrective surgery on an older child. This treatment not only gives hope to a young child and their family, but it delivers real economic value to developing countries. Research shows that a child healed of clubfoot can contribute around £20,000 of value over their lifetime to the economy of a typical developing country.
To find out more please browse the website or contact us .