Jump for Joy Story: Dancan
Dancan's Story
The excitement Rosemary felt about the birth of her son, Dancan, soon faded to concern when she noticed his tiny feet were severely twisted. He had bilateral clubfoot – a deformity which was all too familiar to his mother.
She had exactly the same condition, and because her parents could not afford treatment, it was never corrected.
As she held her newborn baby, Rosemary recalled what she had gone through as she grew up. How hard it had been to find friends, and how teachers ostracized because of her disability. She remembered struggling to learn to walk. As Rosemary looked at Dancan, she knew this same future awaited her son unless something could be done.
Her thoughts then drifted to a conversation she had before Dancan was born. Whilst working at a vegetable stand, Rosemary met a social worker from the AIC-Jump for Joy Children's Hospital, who shared with her how the hospital was curing children with clubfoot.
Recalling that conversation, she decided to take her newborn son to the hospital in Kijabe.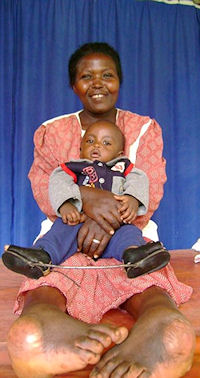 Her little boy was soon in the care of the specialists at the hospital's clubfoot clinic. Using a nonsurgical technique called the Ponseti Method, Dancan's feet were gradually straightened until they looked like any other child's.
Since then, almost three years have passed. Today Dancan is a happy, vibrant boy with straight feet. Although Rosemary's feet are still twisted with clubfoot, she smiles as she watches her son run and play with his friends. She knows his childhood will be very different from hers.
Because of Jump for Joy and its Jump for Joy Clubfoot Worldwide program in Kenya, Dancan will get to experience everything his mother never could.

YOUR GIFT helps ensure we can reach future generations of children born with Clubfoot.

To find out more please browse the website or contact us .